Top Celebrity Styles From The Wimbledon Tennis Tournament 2019
Wimbledon, the prestigious two week tennis tournament, is known not only for the competitive sport but also for the sophisticated celebrity fashion.  Some of the hottest A-listers travel from around the world to watch one of the most popular tennis events, including the Royal Family.  
This year's tournament has come and gone, and we are here to recap the best styles seen at the 2019 matches.
Kate Middleton's Blue Dress
Crisp white button-down shirts and pastel summer dresses were prevailing fashion components in the stands.   Kate Middleton's blue dress by Emilia Wickstead was a definite crowd pleaser at the championships.  This style was a great example of how even the Royals mix high and low in one outfit.  Her dress, priced at $798, was paired with Aldo ankle strap pumps.  All in all, a picture perfect look as always by Kate Middleton.
Kendall Jenner's Blue Button Down Shirt
Model, Kendall Jenner, keeps it more on the casual side in a Ralph Lauren Polo blue button-down shirt.  One of her latest style obsessions is her Adidas Continental Leather Sneakers, which she wore at Wimbledon.
Pippa Middleton's Pink Dress
Pippa Middleton was pretty in pink, styled in a Stella McCartney dress and matching hat.  Her monochromatic look was accessorized by a J. Crew clutch and pale pink mules.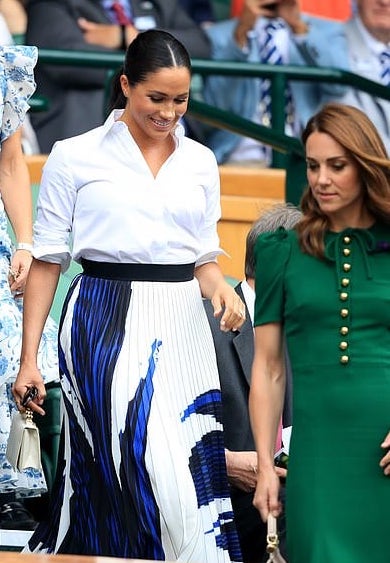 Meghan Markle's Printed Pleated Skirt
One of the most talked about styles from 2019's Wimbledon Championships was from Meghan Markle. She was spotted wearing a Hugo Boss bold pleated skirt, paired with a white button-down shirt.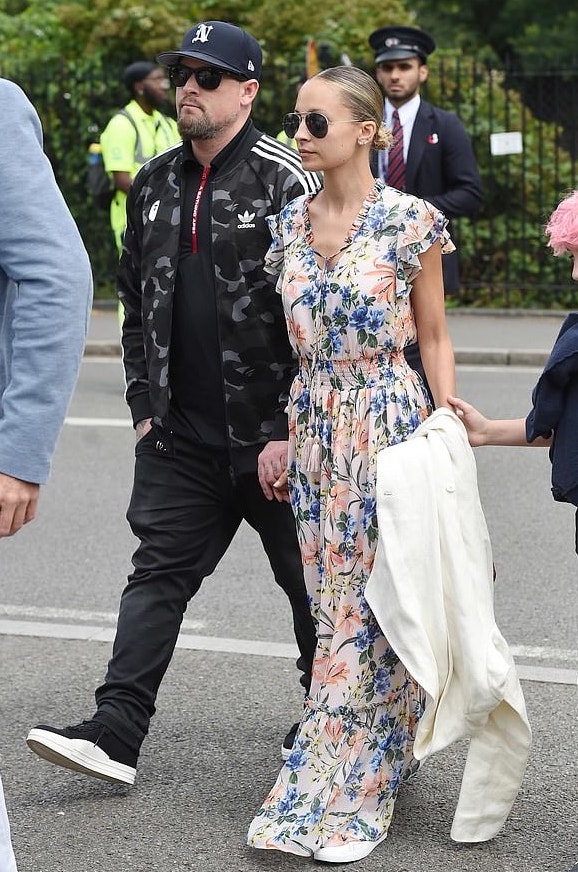 Nicole Richie's Printed Maxi Dress
Nicole Richie attends the Wimbledon Championships wearing a lovely printed House of Harlow dress.  Much like Kendall Jenner, she opts for comfort in her Nike footwear choice.
Kate Beckinsale's Lace Dress
Last but definitely not least, Kate Beckinsale stunned at Wimbledon in her gorgeous white lace dress by Dolce & Gabbana.  She added a touch of summer vibes with her printed sunflower pumps.