2 Simple Workouts To Get Gigi Hadid's Sculpted Abs
As one of the most highly watched and sought fashion model in 2019, Gigi Hadid focuses a lot of her attention on keeping her mind and body in a healthy state.  She has been very open about her love for food and does not deprive herself from her favorite delicious indulgences, like juicy hamburgers or a slice of iconic New York style pizza.  To balance her love of life with her dream job, she lives an incredibly active life.  However, hitting the gym is a usual occurrence for the 24 year old super model.
Her FitFusion trainer, Andrea Orbeck revealed two of Hadid's go-to workout routines to keep her physique toned and ready for the runway.  Many of the moves are full body, featuring movement in the arms and legs, but hone in on one trouble area - the belly.  
Try out these two of Gigi's moves just in time for the holidays:

SINGLE LEG SIDE PLANK
Get into the side-plank position. Keeping your back straight and your body facing forward, slowly lift your leg toward the ceiling. Hold for 10 seconds before lowering.

KNEES TO ELBOW CRUNCH
Begin by lying on your back with feet on the floor, knees bent, and hands at your temples. Draw inward and try to touch your elbows and knees together over your stomach. Extend your legs as far from yourself as you can without losing lower back pressure on the mat. Repeat for one minute without rest.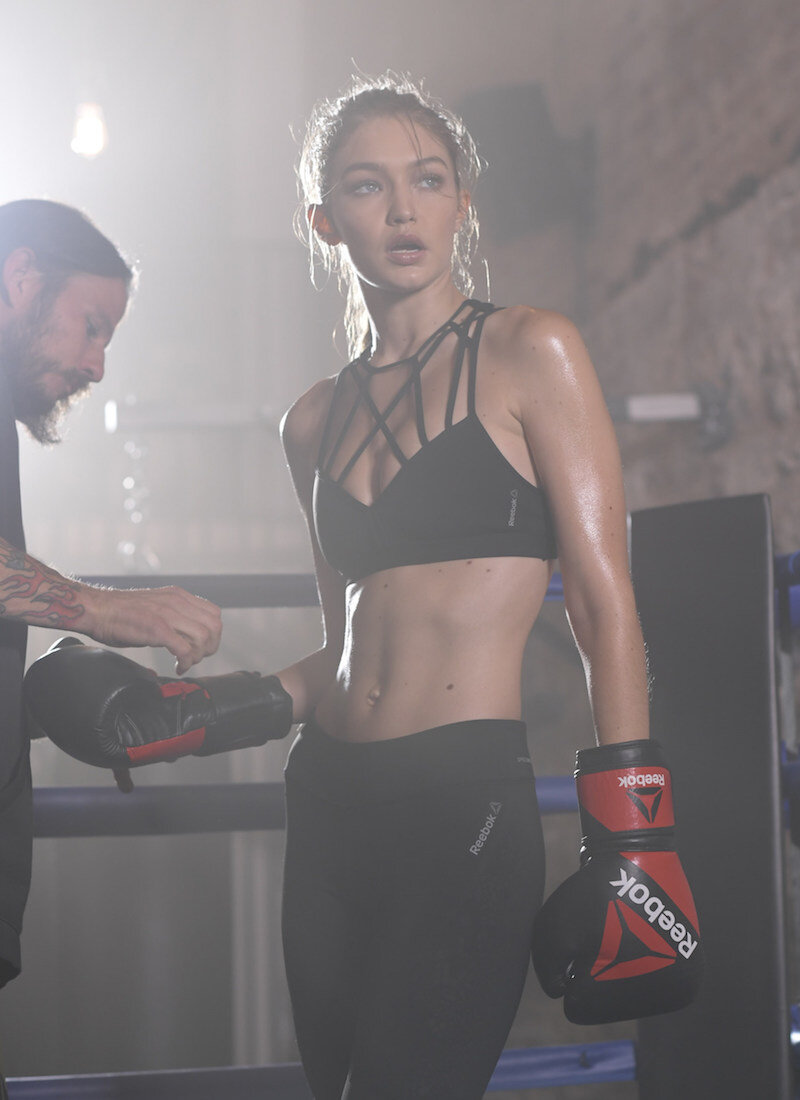 Many models like Gigi Hadid are enthusiastic about sharing their workout routines to promote healthy ways to stay in shape and love your body.  Stay tuned for more celebrity workouts to test out yourself!
---
Find activewear inspiration and shop what the celebs wear to the gym HERE.